Most incred­i­ble of all is von Däniken's the­o­ry that we are the descen­dants of these galac­tic pio­neers, and he reveals that reli­gious texts, cave draw­ings, stone sculp­tures, pyra­mids and mon­u­ments of the great ancient civil­i­sa­tions should be viewed as evi­dence for the close encounter. These con­tro­ver­sial the­o­ries shocked, excit­ed and cap­ti­vat­ed pub­lic imag­i­na­tion. Char­i­ots Of The Gods™ has with­stood the test of time, sold over 70 mil­lion books world­wide, and to date, Erich's works have been trans­lat­ed into 32 lan­guages and pub­lished in more than 40 coun­tries.
The icon­ic book has influ­enced and inspired many artists, cre­ators, and inno­va­tors. Acclaimed direc­tor Rid­ley Scott has cred­it­ed Char­i­ots Of The Gods™ as the stim­u­lus for his clas­sic 1979 block­buster smash, Alien and Prometheus, and the book has pro­vid­ed fer­tile ground for many more pro­lif­ic indi­vid­u­als, includ­ing 3-time Acad­e­my Award-win­ning direc­tor Steven Spiel­berg (Close Encoun­ters Of The Third Kind, War Of The Worlds, Indi­ana Jones), X-Files cre­ator Chris Carter, George Lucas' Star Wars tril­o­gy and Stan­ley Kubrick's 2001: A Space Odyssey.
Over 70 million books sold
No.1 New York Times bestseller
Publications in 32 languages in more than 40 different countries
The original and most successful brand of it's kind in history
An Oscar® nominated documentary feature called Chariots Of The Gods™ was a smash hit at the box office
Inspiration for various blockbuster movies & TV series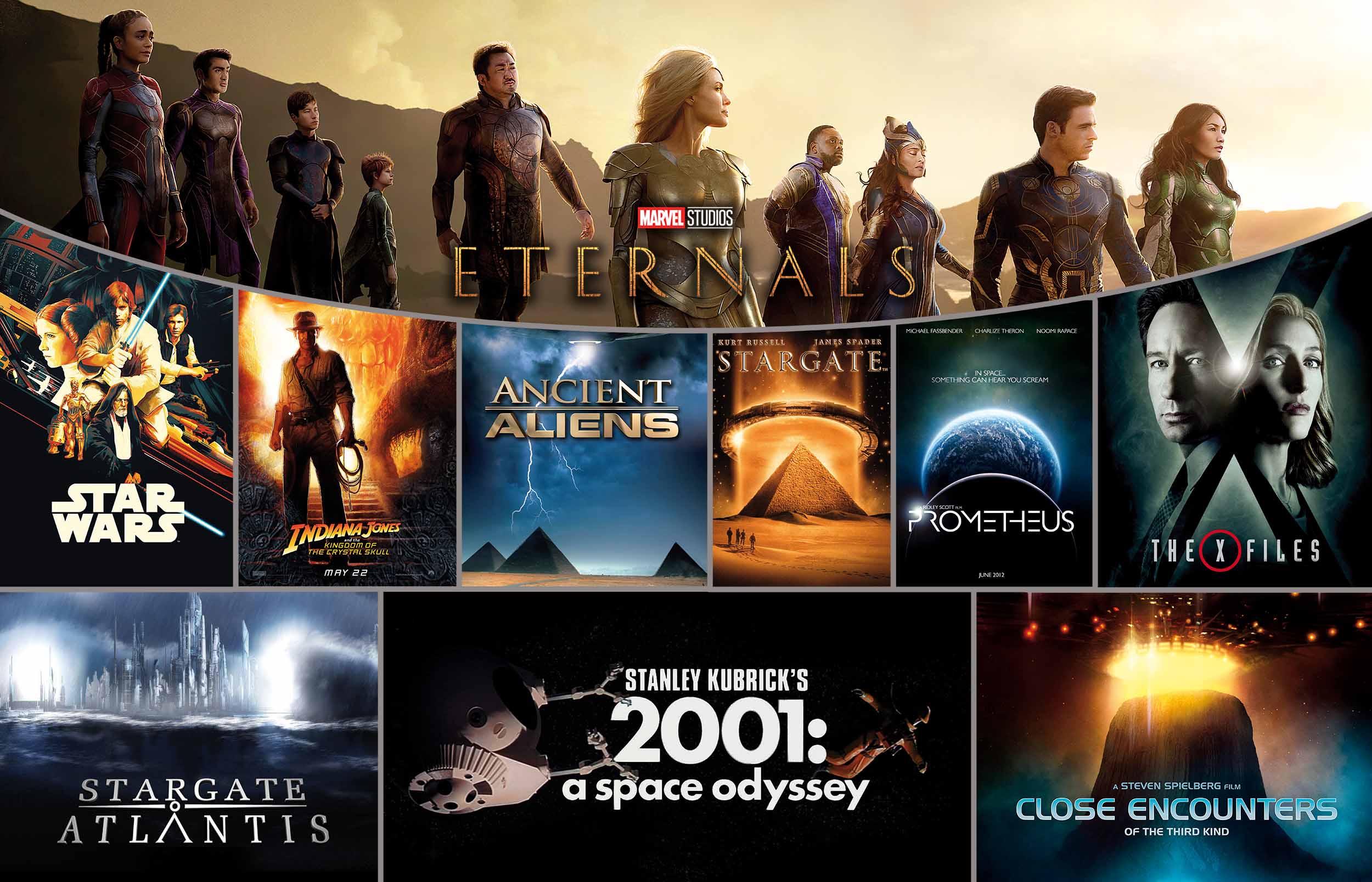 The Chariots Of The Gods™ documentary feature film was directed by Harald Reinl and nominated for an Oscar® for Best Documentary. The film grossed US$ 25,948,300 during its initial release. This equated to US$ 161,661,252 in 2017 Box Office.
IN SEARCH OF ANCIENT ASTRONAUTS
In Search Of Ancient Astronauts was produced by Alan Landsburg and narrated by Rod Serling and received an Emmy nomination for Best Cultural Documentary. Within 48 hours of the show's airing, more than 250,000 copies of The Chariots Of The Gods® had been sold.
IN SEARCH OF ANCIENT MYSTERIES
A second TV Special In Search Of Ancient Mysteries presented by Timex aired on NBC the following year. It was also produced by Alan Landsburg Productions and narrated by Rod Serling.
Directed by Harald Reinl and narrated by William Shatner this feature documentary film was released in 1976. This documentary is also known as Miracles Of The Gods and William Shatner's Mysteries Of The Gods.
A 25-part TV documentary series produced by German SAT1 Group.
CHARIOTS OF THE GODS™
– THE MYSTERIES CONTINUE
Produced by Kane Productions International and aired by ABC Capital Cities Television Network.
One of the highest rated shows on History Channel with Erich von Däniken as guest star. 13 seasons and a total of over 147 episodes have been produced.